Motorcycle long-sleeved T-shirt YELLOW REAPER Fuel Sucker Club; Bikes & Adrenalin
YELLOW REAPER - FSC
Motorcycle long-sleeved t-shirt
Bikes & Adrenalin
Black colour+ black and white striped sleeves
MATERIAL: 100% cotton 180 g / m
Permanent imprint made by screen printing
Motorcycle Longsleeve YELLOW REAPER - Fuel Sucker Club
Black Longsleeve, striped sleeves, made of high-quality Polish 
cotton fabric
with a weight of 180 g / m.
Decoration made by screen printing technique. 
Neck welt finished with a soft tape, a small badge on the sleeve, a large badge at the bottom of the shirt, on the back.
Large print on the front
34cm (
13.39") 
x 27cm (
10.63"
)
. Back print measuring 
38cm (14
.96"
) x 10
cm (
3.94"
)
Graphic designer - Krzysztof Świętek

Design protected by copyright. Copying and publishing prohibited!
One can look for inspiration everywhere, and certainly in the aesthetics of some military formations. Yellow
Reaper found color inspiration in the U.S. patch. 1st Cavalry Division. Images of the Grim
Reaper were a common element used in airborne patches, and also added
vigor, painted on the fuselages of airplanes. Our grim reaper is like a coach, it allows you to find meaning in
life. Placed in heraldic form, she holds a scythe in one hand and a steering wheel in the other
chopper. He encourages the ride by using a motivating slogan. It worked, didn't it?
The Grim Reaper motorcycle t-shirt for anyone who remembers that there's no kidding with the Grim Reaper
We offer other products from the YELLOW REAPER series
Check the sizes before buying so you don't have to change.
Longsleeve dimensions:
M = length-70cm (27.55 ") x chest  (measured from the armpit to the armpit) -52cm (20.47"); sleeve length 63cm (24.80")
L = length-72cm (28.34 ") x chest  (measured from the armpit to the armpit) -54cm (21.25")
; 
sleeve length 64cm (25,19")
XL = length-74cm (29.13 ") x chest width (measured from armpit to armpit) -58cm (22.83")
; sleeve length 65cm (25,59")
XXL = length-77cm (30.31 ") x chest width (measured from the armpit to the armpit) -62cm (24.40")
; 
sleeve length 66cm (25,98")
You can use your own T-shirt to choose the right size; lay it "flat" on the table or the floor. Use a tailor's meter to measure the length and width of your T-shirt. Remember that the width must be multiplied by 2 if you want to get the circumference of the chest. The length of the shirt is measured from the back, from the top, where the collar or the welt is sewn, to the bottom of the shirt.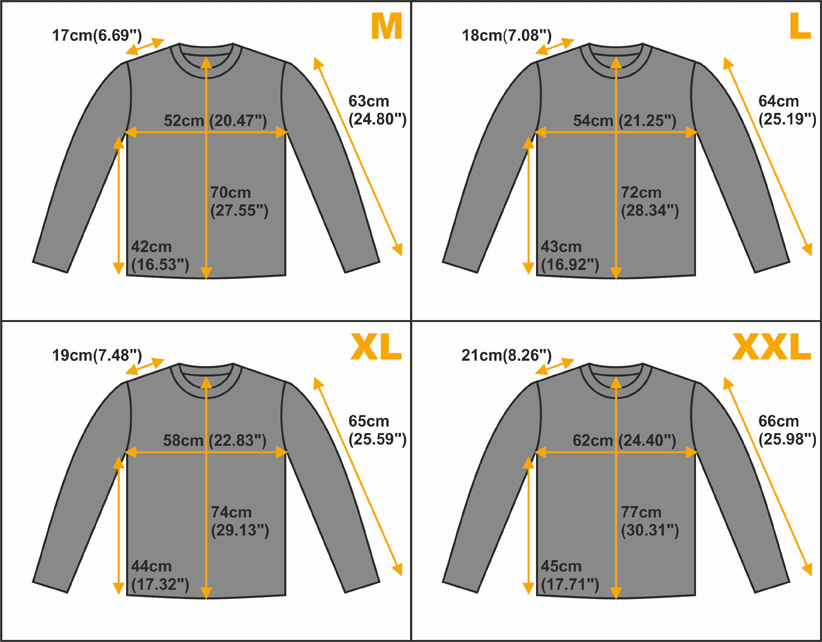 Washing recipe:
In order to increase muscle mass, we recommend hand washing;) on the left side, at a temperature of up to 30 degrees Celsius
T-shirt made entirely in Poland, from Polish materials, from idea to product :)
MADE IN POLAND
M - rozmiar średni
5905214440428
XL - Bardzo duże
5905214440442
XXL - wielkie
5905214440459